READING ORIGINAL VEHICLE FILE WITH MYGENIUS DEVICE
Connect the MyGenius device to the vehicle diagnostic port.
Select "WORK"
Follow on-screen prompts to identify the correct model and ECU
Follow on-screen prompts to "READ" the original file

If your read is completed in less than a minute, please read once more. Some tractors will provide an ID prior to actually reading the controller.
(BELOW IS AN EXAMPLE OF ONSCREEN PROMPTS. YOUR VEHICLE WILL LIKELY HAVE DIFFERENT ONSCREEN PROMPTS)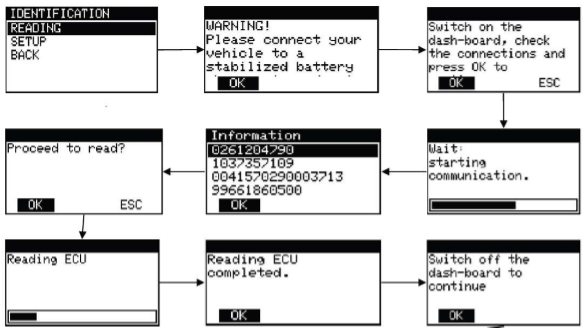 Once the Stock file is read it is a good idea to also read the EEProm and/or The injector codes under Work > tool option.
The MyGenius device is now loaded with the original file and is ready to download using the "MyGenius Client" program.
Click "Here" for our guide on how to install the MyGenius client software, download the Stock read, and send it to us for processing.